Home
/
Who won YouTube vs TikTok Boxing Fight? Results including Austin McBroom vs Bryce Hall.
Who won YouTube vs TikTok Boxing Fight? Results including Austin McBroom vs Bryce Hall.
Here's who won the TikTok vs. YouTube battle. After various content creators competed against one other, the winner of the Battle of the Platforms was determined.
Published: Jun 13, 2021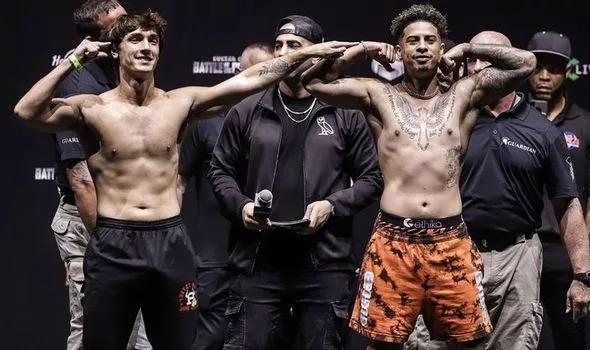 In the latest social media influencer bout, Austin McBroom defeated TikTok star Bryce Hall in a tough three-round fight at the Hard Rock Stadium in Miami tonight.
In R3 Austin McBroom defeated Bryce Hall by TKO
McBroom dominated the fight for three rounds before the referee mercifully stopped the fight, giving the YouTube sensation a big victory.
The event drew an estimated 15,000 people to the stadium, which has a capacity of 63,000 for Miami Dolphins football games.
On the undercard, British fighter Faze Jarvis knocked out top TikTok star Michael Le in a horrific knockout, before Vinnie Hacker stopped Deji Olatunji to get one back for his team.
AnEsonGib beat Tayler Holder in a one-sided exhibition bout in the co-main event, but the judges judged it a majority draw, much to the anger of the home and stadium audiences.
Here are the other Miami results...
When TikTok sensation Bryce Hall walked into the ring with former NCAA basketball phenom Austin McBroom, he was completely destroyed.
Despite claiming to have fought on the streets 40 times, Hall seemed hopelessly out of his depth against McBroom, who was a considerably superior athlete, and several standing eight counts were called.
He was also docked a point in the first round for his filthy boxing, and he admitted afterward that he 'wasn't a boxer.'
AnEsonGib DRAW Tayler Holder
Fans booed the ring when the scorecards were read, to to the surprise of ring announcer FouseyTube, in a highly heated draw.
Holder was definitely the better boxer on paper, but Gib's improved cardio and serenity allowed him to fight significantly better than he did in his pro debut against Jake Paul.
Many viewers believed Gib had won all five rounds, however none of the judges agreed, with one claiming Gib had won 49-46.
In R3, Vinnie Hacker defeated Deji by TKO
Vinnie Hacker, an 18-year-old TikTok celebrity, stopped YouTuber Deji Olatunji in the third round of their battle in the greatest upset of the night.
Olatunji claimed he was in better shape than when he fought Jake Paul in 2018, going five rounds with the now 3-0 pro.
However, he faded early and was on the verge of quitting at the start of the third before being beaten by the unheralded Hacker.
Nate Wyatt defeated DDG by UD
DDG, a platinum recording artist, dominated TikTok star Nate Wyatt in one of just two bouts that went the full distance on the night.
He announced his retirement from YouTube earlier this year, and later told Paige VanZant in the ring that this would be his final boxing battle.
The ring walk in this fight, where DDG banged himself to the ring in a surefire first for boxing at any level, was a memorable moment.
In R2, Faze Jarvis defeated Michael Le by KO
Jarvis of the Faze Clan hit a huge knockout in the second round of his match with Michael Le, making it the night's most viral stoppage.
Le, the TikTok star with the most followers on the card (approximately 48 million on his TikTok alone), got out to a fast start, but couldn't get into a rhythm and was eventually knocked out by the Brit.
Jarvis, a Londoner, looked like one of the more outstanding fighters on the card and promised to return.
In R2, Landon McBroom defeated Ben Azelart by TKO
In his amateur boxing debut, Landon McBroom thrashed Ben Azelart, slamming the inexperienced TikTok sensation in a fight that may have been stopped in the first round.
McBroom, whose brother won the main event, appeared strong at times, but it's unclear what he'd be able to accomplish against someone who has properly trained.
Before the fight, Azelart admitted that he had never thrown a punch before.
In R5 Ryan Johnston defeated Cale Saurage by TKO
Ryan Johnston took on Cale Saurage in the evening's first round, which featured both men landing their fair share of huge shots.
Saurage was as eager as anyone, but he lacked the technical skill to fight with a boxer like Johnston, who earned his spot in the tournament in a behind-closed-doors sparring competition.
Following the fight, Johnston claimed he was thinking about returning to the ring, but he wouldn't name anyone in particular.