Home
/
Floyd Mayweather Jr. Vs. Logan Paul: Date, Fight Time, Tv Channel And Live Stream
Floyd Mayweather Jr. Vs. Logan Paul: Date, Fight Time, Tv Channel And Live Stream
Logan Paul fights Floyd Mayweather Jr. this Sunday. Here's what you need to know.
Published: Jun 03, 2021
One of boxing's most illustrious names returns to the ring to face one of social media's most popular figures.
Floyd Mayweather Jr., a 2020 International Boxing Hall of Fame inductee, will fight YouTube personality Logan Paul in an eight-round exhibition bout on Sunday at Hard Rock Stadium in Miami Gardens, Fla.
What had appeared to be a lighthearted opening press conference between Mayweather and Paul quickly turned sour when Paul's younger brother, Jake, got into a heated altercation with the boxing legend in the midst of Sunday's bout.
Everything you need to know is right here...
Floyd Mayweather Jr. Vs. Logan Paul Start Time
On Sunday, June 6, the PPV will begin at 8 p.m. EDT (5 p.m. PDT) in the United States.
On Monday, June 7, at 1 a.m. BST, the PPV begins in the United Kingdom.
On Monday, June 7, at 10 a.m. AEST, the PPV will begin in Australia.
How to watch Live Stream Mayweather Vs. PaulFanmio is the simplest way to watch online.
Fanmio is the simplest way to watch online.
Those who want to watch the fight will have to pay for it. A ticket to watch the fight costs $49.99 (£36, AU$64) and includes a T-shirt.
According to Fanmio's website, 20 US residents who sign up for Fanmio will also receive a video meet-and-greet with the fighters – and the giveaway rules state that those winners are not required to purchase the fight in order to enter the drawing.
There are, however, other ways to watch.
In the United States, you can watch the fight for $49.99 on Mayweather's usual partner Showtime.
In the United Kingdom, you can watch for a relatively low £16.95 through Sky Sports Box Office.
In Australia, you can watch via Main Event for AU$49.95, which is less than what you'll pay on Fanmio, but you'll need Foxtel access to do so, which complicates things. If you don't already have a Foxtel subscription, you should just use Fanmio.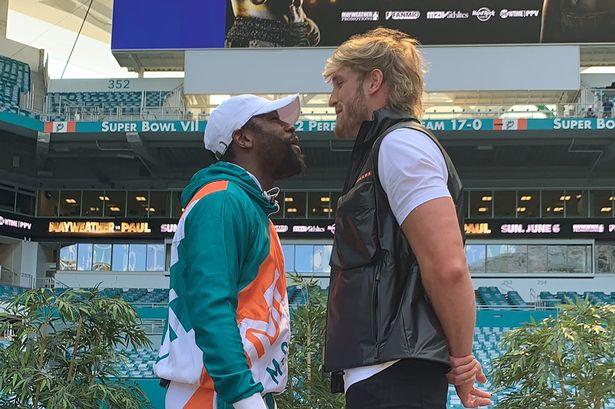 Logan Paul Vs Mayweather Rules
The fight will last up to eight rounds, each of which will last three minutes. Both Mayweather and Paul will be wearing 12-ounce gloves, but neither will be wearing a helmet during the fight.
Because of the vast weight difference between the two men, the fight is an exhibition rather than an official match. However, there will be restrictions, as Paul, 26, revealed this week that he will be limited to a maximum weight of 190 pounds in the ring, or face a $100,000 fine for each pound he exceeds.
On the other hand, Mayweather, regarded as one of the best pound-for-pound fighters of all time, is expected to weigh in at 160 pounds on Sunday, a career high for the 44-year-old.
No Judges And No Winner
The biggest piece of news is that there will be no winner at the end of the fight. As a result, there is no need for judges.
Knockouts Are Permitted
Even if there is no official winner, there may be a stoppage. This could happen by knockout, which is legal, or at the discretion of the referee.
Floyd Mayweather Jr. Bio:
Nationality: American

Born: February 24, 1977

Height: 5-8

Reach: 72 inches

Total fights: 50

Record: 50-0 with 27 knockouts
Logan Paul Bio:
Nationality: American

Born: April 1, 1995

Height: 6-2

Reach: 76 inches

Total fights: 1

Record: 0-1
Full Fight Card Floyd Mayweather Jr. Vs. Logan Paul:
Floyd Mayweather vs. Logan Paul; Exhibition

Badou Jack vs. Dervin Colina; Light Heavyweight

Jarrett Hurd vs. Luis Arias; Middleweight

Chad Johnson vs. Brian Maxwell; Cruiserweight

Jean Carlos Torres vs. Zack Kuhn; Junior Welterweight

Adrian Benton vs. Pedro Angel Cruz; Lightweight

Micky Scala vs. Adam Ramirez; Junior Middleweight

Dorian Khan vs. Jonathan Conde; Featherweight

Jalil Hackett vs. Angelo Diaz; Welterweight

Viddal Riley vs. Quintell Thompson; Cruiserweight